GUITAR LESSONS CATERED TO YOUR INTERESTS AND GOALS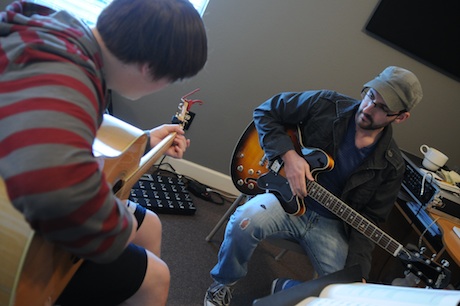 The fastest way to improve on the guitar is to study with an experienced teacher who centers each lesson on your specific musical goals. Whether you're just starting out or you're a more advanced student looking to take your playing to the next level, studying with a great guitar teacher is the key to reaching your musical potential.
WHY LEARN GUITAR WITH ME?
Lessons are catered to YOUR INTERESTS and YOUR GOALS.
Lessons are well prepared and intelligently structured to help you progress at the fastest possible rate.
As an experienced professional guitarist, I offer unique insights into the most important skills to master to make you an employable guitarist.
I've taught many students over the years, a few of which are now professional musicians themselves.
I'll not only teach you WHAT you need to know, but also WHY you need to know it.
WHAT MY STUDENTS ARE SAYING
Can we do webcam lessons?
Yes! If you're not local to the Nashville area, or even if you are but prefer online lessons, I can accomodate. We can do lessons via Facetime, Skype, or Zoom.
What topics do you teach?
I cater my lessons specifically to YOU. That said, here are some of the topics I frequently cover with students.
Right and Left Hand Technique
Fretboard Theory
Creating Great Guitar Parts
How to Expand your Chord Vocabulary
Scales and Modes…and how to actually

 

use

 

them
The CAGED System
The Nashville Number System
Advanced Picking Techniques//Hybrid Picking, Economy Picking, Sweep Picking
Ear Training
Sight Reading for Guitar
How to Practice Effectively
How to get Great Tone
Improvisation Techniques
Recording Techniques for the Guitarist
Can you teach me how to play different styles?
Sure! As a session guitarist, one of the skills I've acquired is breaking down different playing styles into their most distinctive elements. Whatever the syle, I can help you get the techniques and approaches together to play the style convincingly.
What ages do you teach?
Typically, I take students 10 years old and up. I may make expeptions if your child is exceptionally mature and well-behaved.
My favorite students to teach (and the ones I'm BEST at teaching) are older kids and adults who have been playing for a while and are ready to take things to the next level. I love teaching intermediate level students the skills that will take them to the professional level.
How much do lessons cost?
Lessons are $35 for half hour lessons and $65 for hour long lessons. 
If you book by the month, rates are $120/mo for weekly half hour lessons and $230/mo for weekly hour long lessons.
What qualifies you to teach me guitar?
I've got a university degree in music, plus years of experience as a professional touring and session guitarist in Nashville. I'm an educated musician who also has street cred and real-world experience. That combination makes me a valuable resource for my students.
Also, I've been teaching since I was in high school, so I bring years of teaching experience to my students. Lessons are never "one size fits all", but are catered specifically to each student.