online or in-person guitar sessions 
"Andrew – I absolutely LOVE working with you, both virtually and in person. The virtual thing has always been a little dicey for me, as I'm not able to give guidance with tone and direction on specific parts I'm hearing. You've made it a delight, because your tone is always SUPERB and you have GREAT arrangement ideas! I also love that I get files from you that are CLEARLY labeled (i.e. Bridge EG1, Verse 1 Delay EG, etc.) so I know exactly when to use them and my sessions end up being organized in a clear way … I can't stress enough just how helpful that is to a Producer!! Anyway, just wanted to say THANKS again for all you do to help me create great music …"
NEED A SESSION GUITARIST?
After recording guitars on over 800 projects and producing over 200 tracks, I've got the experience required to make your project great! I've worked with clients from every continent except Antarctica covering a wide variety of genres and styles.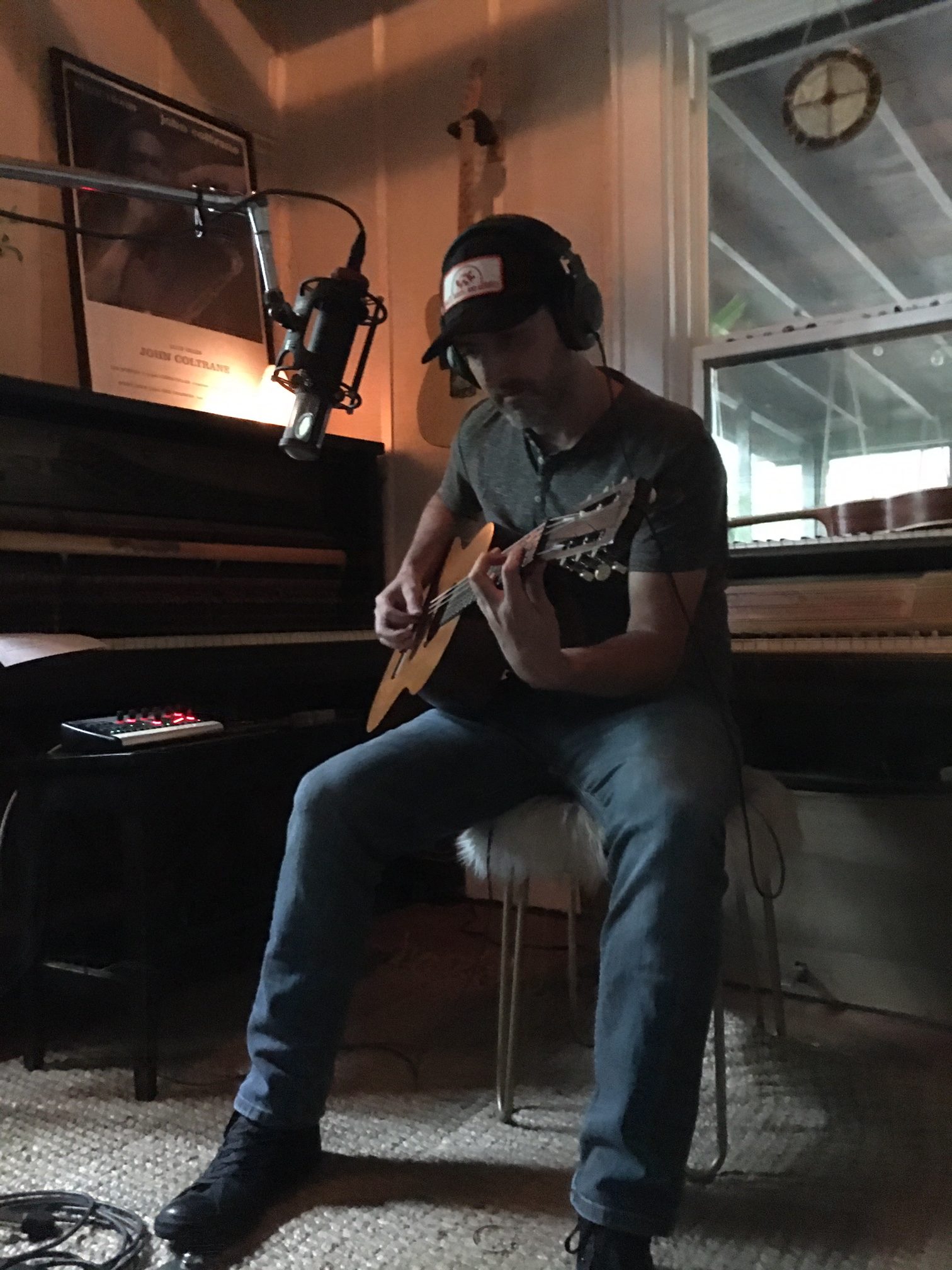 Check out the playlists below for several examples of my session work.
How do remote sessions work?
It's a pretty simple process. Once you book me for a session, you'll start by sending me stems or a rough mix mp3 of the song in production along with instructions of the type part(s) you'd like for me to record. I'll then record my track(s) and send you a demo to check out. If you'd like revisions or additions, just let me know and I'll get those updates done. If you're happy with the track(s), we'll finalize payment and then I'll send the high res audio files to you. Easy!
Are you available to record locally?
Yes! I do more remote sessions than local sessions these days, but I still LOVE doing in-person sessions. If you're planning on recording in or around Nashville, I'd love to work with you.
I'm also willing to travel for session work. If that's something you want to do, I'd love to make it happen.
What styles/genres are you best at?
Short answer…most pop styles. Rock, pop, country, modern worship, ambient, R&B, singer/songwriter, blues. These styles are my home base as a guitarist.
Longer answer…as a university educated musician and a career session player/composer in Nashville my musical influences and experiences are deep and varied. I have a classical guitar background. I love choral music. I've composed orchestral pieces, reggae tracks, hiphop tracks, Irish rock tracks, period-type pieces for a TV show about Abraham Lincoln…just to name a few. With such diverse musical experiences, I feel well-equipped to handle almost any session thrown my way. 
How soon can you get my guitar tracks recorded?
That depends on my workload and travel schedule at any given point. Generally, I only travel on the weekends, and even then I can usually track electric guitars from the road. 
I can almost always guarantee tracks done within a week of receiving the order, usually quicker. Let me know if you need something on a really tight deadline and I'll do everything I can to work with you on it.
What's your rate?
Rates start at $75 for a single track. Rates top out at $250 for a "full treatment" session where I pile on as many tracks as needed to make your song sound fully produced and layered.
Other variables that could affect the rate are how quickly you need the tracks and complexity/length of the song.
Every project is unique, so get in touch and we can figure out a budget that makes sense for your project.
My rates include up to 2 rounds of revisions if needed. If additional revisions are needed they will be charged at $50/round.
Additionally, I can provide dry DI tracks along with amp recordings for electric guitars for $25/song and can send edited/quantized guitar tracks for $50/song.
Do you offer discounts for multiple song orders?
YES! Working on an EP or a full length album? Let me know up front and I'll give you a discount for batch orders.
How do payments work?
Payment is not required until you sign off on my guitar tracks. Once you're happy and ready to receive the final high res files, you can pay via PayPal, Venmo, or Cash App.
What gear do you use? What guitars do you have?
I track through an Apollo Twin X interface into Logic Pro X. My mic of choice for acoustic instruments is an Audio Technica AT4033a condenser mic.
As far as guitars, I have a variety of acoustic and electric instruments to choose from. All your standard pieces (dreadnought, classical, tele, strat, 335, les paul, gretsch), plus several more auxiliary type instruments. For a detailed list of all my gear including amps and effects CLICK HERE. Pics included!
Do you know any drummers/pianists/bass players/etc?
Yep. One of the major benefits of being based in Nashville is that I have a wide network of world class musicians right here. If your project is needing something other than guitars, let me know and there's a good chance I can connect you with any type instrumentalist you need. I also know some fantastic mixing/mastering engineers. Just let me know what you need and my network can become yours!
Why should I hire you and not some other guitarist?
Here are a few reasons…
Versatility.

Combine a classical University music education with real-world experience in the studios and stages of Nashville and you get a well-rounded and versatile musician.

Experience.

 I've recorded on over 800 projects for clients from all over the world, in addition to producing my own catalog of over 200 compositions.
Professionalism. I go above and beyond to be professional with my communication, quality of work, attention to detail, and overall experience provided to YOU, the client.
I'm a composer/producer. In other words, when I'm arranging and recording guitar parts I'm envisioning the wider scope of the song. I can get in the headspace of a producer because I am one! I approach each song on its own terms and for its own creative end.
Scroll up and read some testimonials from past clients for a few more reasons why you should hire me.
It's my absolute joy to bring life to the musical vision of creators like you. Click the button below and submit a contact form to get the process started.