A while back I detailed my new touring pedalboard here and here. Now let's talk about my new session pedalboard.
I've been dreaming up this board for a couple years now. Most of my session work happens in my home studio, so it hasn't been a priority. But the session for the new Frank Foster record was the perfect opportunity to go ahead and get this pedalboard built. One of the cool things about playing with Frank is that he uses his touring band in the studio.
Over the years, I've collected quite a variety of pedals that I pull from when sessions call for a certain sound. Most of the pedals on the new board came from this collection, but I also bought a few new pedals specifically for this board build.
My aim was to have a board that was:
Versatile
Stereo
Flexible
Noise-free
Not obnoxiously big
Here is the finished result.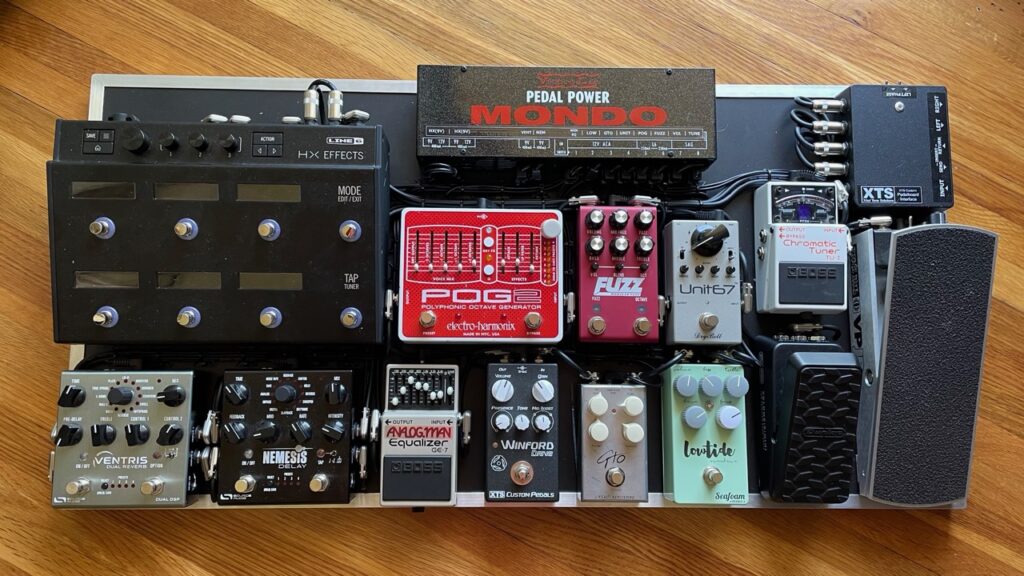 The Signal Path
Here is the path, from guitar to amp(s).
XTS Custom Interface
Line6 HX Effects (Dunlop mini volume is used as an expression pedal for the HX Effects)
HX Effects Loop 1 Send to Drybell Unit 67
Electro Harmonix POG 2
Jackson Audio FUZZ
Seafoam Pedals Lowtide Overdrive
Rockett GTO Overdrive
XTS Winford Drive Overdrive
Back to XTS Interface Send
XTS Interface Return to…
Analogman modded Boss GE-7
Thrutone modded Ernie Ball VP jr. – aux out to Boss TU-2 Tuner
Back to HX Effects Loop 1 Return
Stereo out to Source Audio Nemesis Delay
Stereo out to Source Audio Ventris Reverb
Stereo out to XTS Interface
To amp(s)
Power/Cabling/Interface
This is all powered by a Voodoo Labs Pedal Power MONDO. I'm not sure what magic Barry and the guys at XTS did to pull that off, but they did it!
Cabling is all custom work by XTS.
Here is a better view of the Interface. For a typical mono amp setup, I'll just plug into the INPUT and go out the LEFT output to my amp. The SEND/RETURN insert allows me to plug other pedals into the middle of the board (behind drive pedals but before EQ and all time-based effects). It also features switches for ground lift and phase for when I'm running 2 amps in stereo. This allows for noise-free operation using pretty much any combination of amps I'll ever plug into.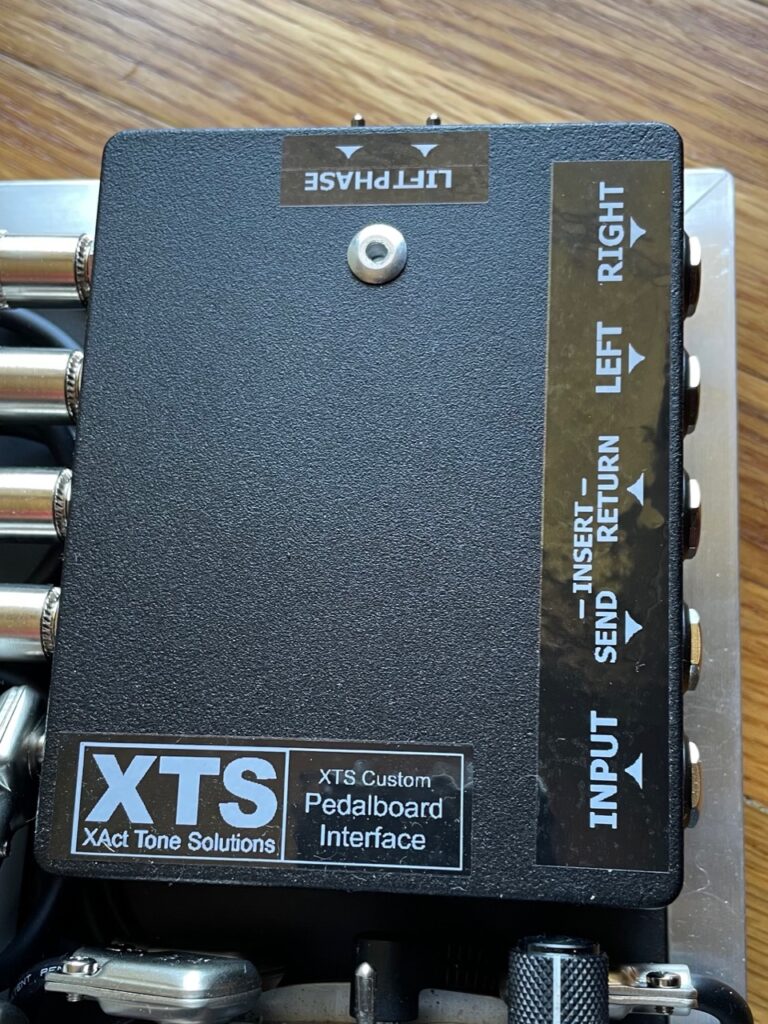 Early Impressions
So far I've used this board for a few overdubs sessions at my home studio and the Frank Foster session at Welcome to 1979 in Nashville. Overall I'm EXTREMELY pleased with this board.
Back to my original 5 needs for this board:
Is it versatile? ABSOLUTELY. The variety of drive/fuzz tones, the nearly endless options in the HX Effects, plus the fantastic delays and reverbs in the Source Audio pedals makes this board extremely versatile.
Is it stereo? Yep. We ended up running stereo for one of the guitar parts on the new Frank Foster record and it worked perfectly. No noise. No phase issues. I plan on taking full advantage of the stereo feature on an upcoming solo electric guitar record I'll be writing/releasing later this year.
Is it flexible? YES. The custom interface, the effects loop on the HX Effects, plus the stereo capabilities makes this a very flexible board. Placing all the gain pedals in the Loop of the HX Effects allows me to put effects such as wahs, filters, and pitch effects in front of my drive section, plus having mods and time based stuff from the HX Effects after my drive section. In addition to those features, the guys at XTS left enough room around each of the drive pedals to be able to swap in different pedals as needed in the future.
Is it noise free? So far, so good. I haven't heard any hums or buzzes yet, even when running in stereo. All the pedals sound as they should when engaged.
Is it obnoxiously big? NOPE. The board ended up measuring 16 inches by 32 inches, about the size of a PedalTrain Classic Pro. Big enough to get the job done, but not so big to destroy my back when moving it around. Plus it fits perfectly under my home studio desk. Win!
The only potential issue is with the power supply. Sometimes the MONDO makes a fan noise that is apparently normal, but a bit annoying. I may end up swapping the MONDO for a couple Truetone CS7s.
I hope you enjoyed this walkthrough of the new session board! Let me know if you have any questions or comments. I could talk about this stuff all day.